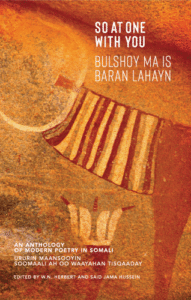 My latest article published on East African Literary and Cultural Studies is available online. Download for free as it is available for short time.
So At One With You, Bulshoy Ma Is Baran Lahayn: An Anthology of Modern Poetry in Somali. Herbert, W.N.; Hussein, Said Jama, (eds.), Hargeysa, Pisa and London: Ponte Invisibile, Kayd Somali Arts and The Poetry Translation Centre, 2018. 211pp. US$15.00 (paperback), ISBN 9788888934631.
With the history of Somali-inhabited lands marred by devastation, drought, and internal strife, this Anthology of Modern Somali Poetry offers useful insights into the past half-century, from 1960 to the present. The collection, consisting of 30 poems, was selected, edited and introduced by W. N Herbert and Said Jama Hussein. It was sponsored by Kayd Somali Arts and Culture (UK), the Redsea Cultural Foundation (Somaliland) and the Poetry Translation Centre (UK) and published by Ponte Invisibile to mark the 10th anniversary of the Somali Week Festival (2018).